01/10/2023 - 31/12/2023
How Our Referral Program Works
WaffarX will pay you for every new member you refer to our site! Earn 2.50 $ for each qualified referral!
Qualified Referrals must shop through WaffarX links and make purchases totaling $25.00 or more in order for you to receive a Referral Bonus.
While we love them too, minor children and imaginary friends don't count, nor do referrals to friends or housemates who don't actually do their own shopping via their own account on WaffarX.com.
Your Referral Bonus will be added to your WaffarX account once your referral makes purchases totaling at least $25.00 through WaffarX. A Qualified Referral must be generated using (i) your custom referral link, (ii) the invitation forms on this page or (iii) other methods supplied by WaffarX that allow for proper tracking of referrals.
The following is a non-exhaustive list of activities that are not permitted and that will disqualify you from earning Bonuses: (i) self-referral, (ii) posting your referral link on any WaffarX merchant's Facebook or forum page, (iii) keyword bidding for the purpose of generating traffic to pages containing your referral link, and (iv) any similar activity determined by WaffarX in its sole discretion to be inconsistent with the purpose of the WaffarX Refer-A-Friend Program.
WaffarX decisions are final. You are responsible for any applicable taxes. This referral bonus promotion is open only to individuals who are at least eighteen (18) years of age.
WaffarX Referral Button
Are you a blogger or power seller? Copy this source code to display our Referral Button on your site.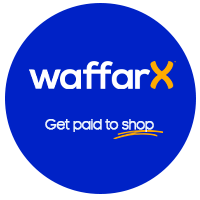 Refer more, earn more! Bloggers and influencers can earn more than $1,000. For more information Contact Us.